AI-Powered SEO Video Marketing
Our AI-powered video Marketing Service will produce, publish, and rank your videos at the top quickly to set your business as an authority to drive new sales.
The AI Web Agency Delivers Results With SEO Video Marketing
AI-Powered Video Marketing Service Offers FAST SEO Ranking
Access to Our Pro Team
Access To Our Professional Video Production & Media Content Team : You'll have direct access to our World Class Professional Team that has years of experience and expertise to deliver highly-engaging video and advertising content.

Years of Proven Research
With years of research and design work, our video ads are PROVEN to boost your conversions.   Our High-Quality Produced Content will engage new customers and drive them to your website while generating new sales and opportunities.
Proven to Boost Conversions
We've researched the top high-converting Video Ads and identified the top concepts to leverage for your business.  We invest our time and expertise to customize the story board, script, and video to deliver results. 
The AI Web Agency has developed and designed a unique SEO video marking strategy that is powered by advanced AI Technology that will rank your videos at the top quickly.  These videos serve as expert information and advertisements about the services or products your business offers.  The way we position your videos sets your business up as the authority in your area for your industry. 
See this video we ranked in the #1 spot in less than 24 hours using our AI-Powered technology!
Google is the top source for traffic and new customers for nearly every business due to it being the top search engine.  But did you know YouTube is the second most popular search engine in the world?  YouTube is owned by Google and favors video content from YouTube to show right inside Google's search results about a topic.  
Our AI-Powered Strategy ranks videos for your business that show up at the top for Google search results. so potential clients see what you offer.  Best yet, it makes your business and your brand an authority on what you do by showing these videos in the most visible spots at the top of Google's result pages. 
Our AI technology will put your business, your content, and ultimately your service at the top visible position to get you better-qualified leads, and more sales, and ultimately grow your business.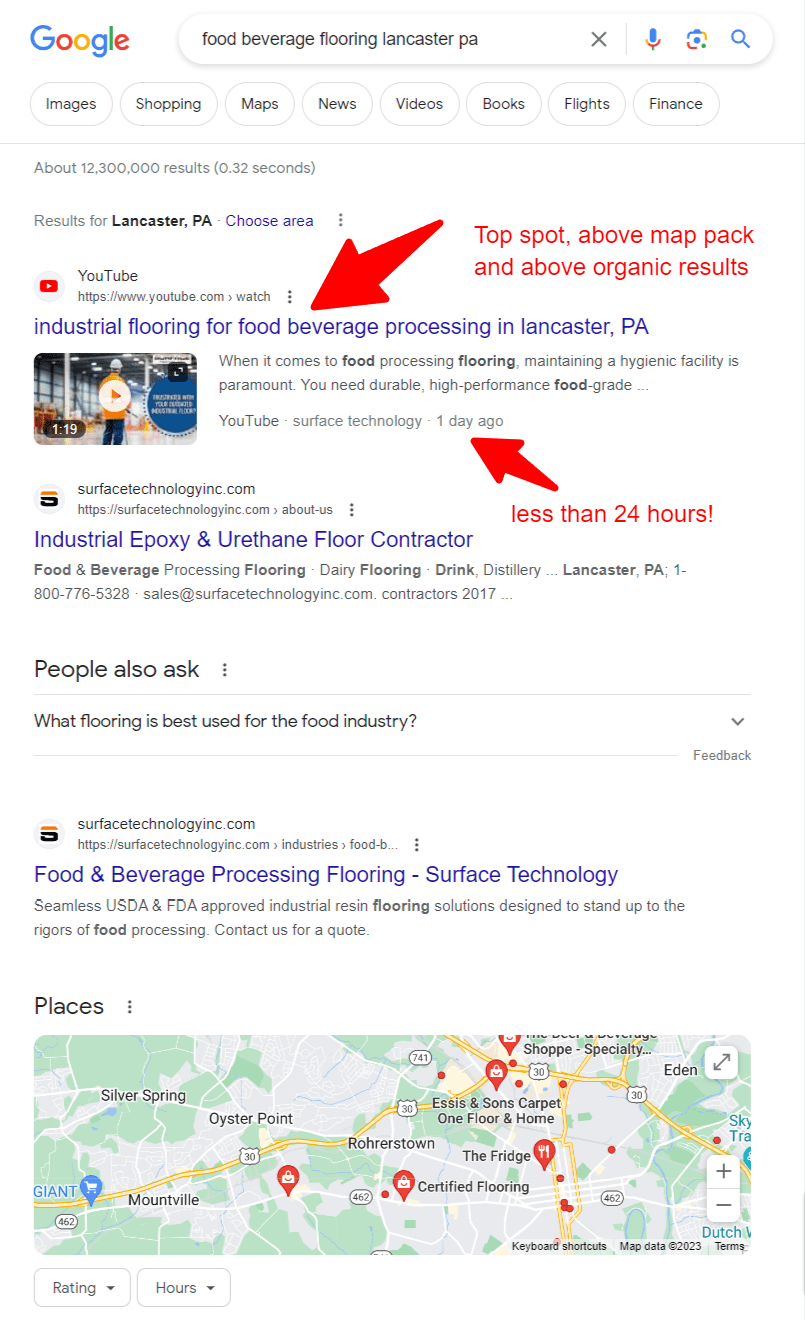 SEO Top Ranked Videos For Your Business
SEO Optimized Video Ad Production
The AI Web Agency provides a fully managed done-for-your solution to your Video Marketing needs.  At the heart of the process is our skilled team that crafts professional 30-60 second videos, all fine-tuned for the search engines to drive premium-quality traffic straight to you via YouTube, LinkedIn, Facebook, and website.
Our AI-powered technology doesn't just stop there — it offers to clone your voice for these videos, letting your audience soak in the authenticity of your voice, style, and message.
But wait, there's more — our AI doesn't sleep on the job. It's always there, boosting your video's SEO, and making sure it sprints up the search results for the keywords that make your business an authority for the product or service you offer.
We're not just tech geeks; we're your creative partners. We pour our skills, time, and the latest tech into crafting a Video Ad that doesn't just bring you eyeballs but captivates, engages potential customers. We're talking full-service here — syndication to YouTube, LinkedIn, Facebook, your site, you name it. We'll launch your video using our proprietary strategy and AI-powered technology complete with transcripts and SEO targeted keywords and phrases that ensure your video shoots straight to the top of the search engines, catching the eye of folks who need what you're offering.
Every video is scripted with pinpoint precision around the specific keywords, terms, and services unique to your business. These videos attract people specifically looking for what you offer in the area you want to be the authority.   With our AI-powered SEO video technology the SEO aspects are embed into its very fabric and transcript, bringing you a stream of fresh prospects hungry for what your business offers. Our strategy translates to new traffic with a purpose for your business, worth infinitely more than your traditional pay per click advertising.
These videos aren't just for show; they're made to convert viewers into action — be it locking in an appointment, jumping on a hot introductory deal, or picking up the phone for a chat.
Book a Free Strategy Call – let our team forge a video outreach strategy that doesn't just tick boxes; it expands your business horizons!